3 in 1 fiber laser cutting welding cleaning machine
Writer: admin Time:2022-08-01 16:40 Browse:℃
3 in 1 fiber laser cutting welding cleaning machine
Nowadays fiber laser cutting, welding and cleaning are often closely linked in metal processing operations. The traditional operation method often requires three different operating equipment to carry out the three processes, not only the cost is high, and the operation efficiency is limited, but also there are a series of problems such as complicated steps and taking up too much space.
Remcor provides customers with integrated solutions and launches a handheld laser cutting, cleaning, and welding machine! This is a machine with triple functions of laser welding, cleaning, and cutting at the same time. Quickly and easily removes oil, rust, and coatings before welding, and removes debris and discoloration after welding, while performing various sheet cutting processes. It can easily and efficiently help customers achieve the best work efficiency and meet most work scenarios.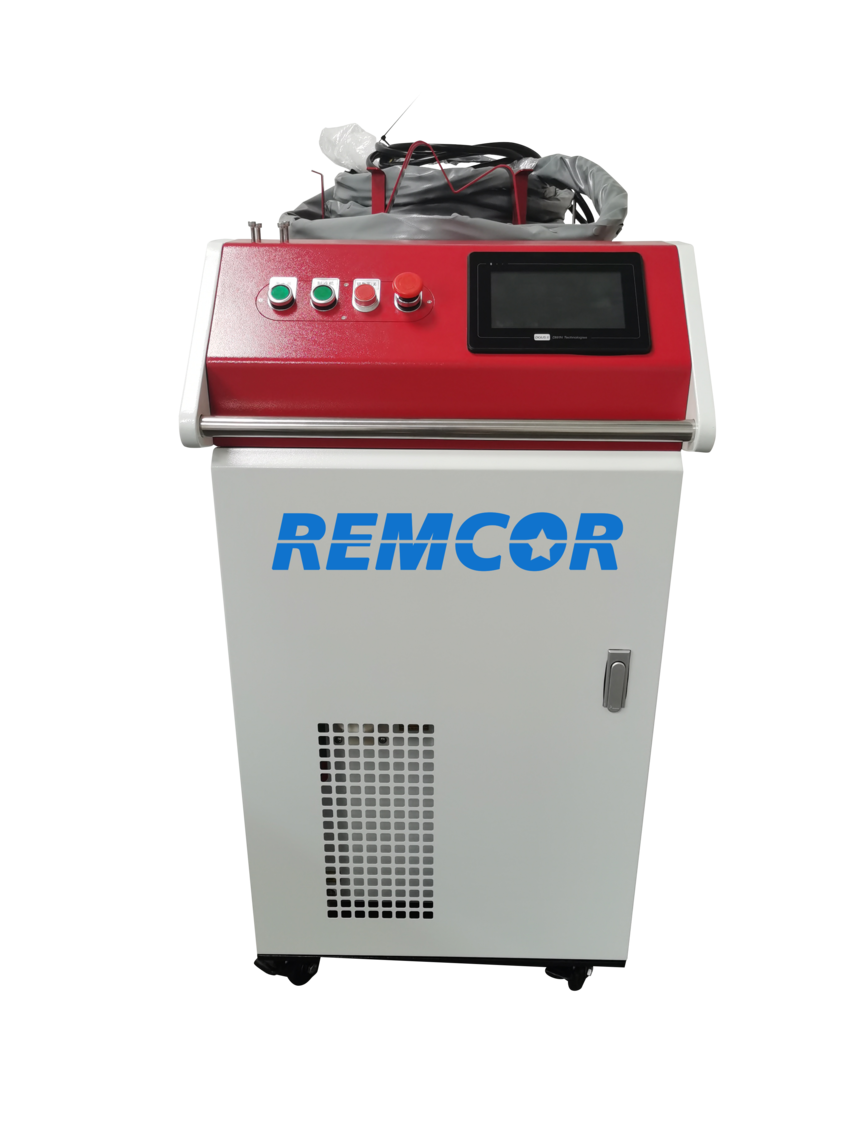 THE FEATURES OF REMCOR 3 in 1 FIBER LASER MACHINE
Handheld laser welding, cutting, and cleaning machine, with the features of below;
Users can choose to switch welding mode,cutting mode and cleaning mode at will and the operation is simple and convenient.

Great welding performance,the heat-affected area during welding is small , which will not cause work deformation , blackening ,and traces on the back, and the welding depth is large ,the welding is firm ,and the melting is sufficient .

Safe and effective cleaning performance ,laser cleaning machine mainly use lasers to burn off metal surface ,such as rust ,paint,etc., and use metal reflective properties to ensure that the parts themselves are not damaged. the principle of this laser cleaning machine is that when the rust is subjected to high temperature, it will evaporate instantly,and after the plasma is spearated , due to the high reflectivity of the uderlying metal to light, the rust removal part will not be damaged even when exposed to the laser ,therefore ,it is effective and safe and even perfectly cleans the corners of parts such as letters and bolts .

Suitable for sheet metal ,doors and windows ,advertising words or some large workpieves,outdoors and scattered welding occasions ,and some other industries .

---
THE ADVANTAGES OF OUR PRODUCT
Laser head safety induction function,only when the gun head touches metal can it emit laser light.

Small size ,light in weight,easy to carry ,suitable for various indoor and outdoor working conditions.

The welding head has a built-in wireless control module ,which can quickly adjust the parameters at the position of the gun head ,without going back and forth to the main cabinet ,saving time and effort ,and being fast and efficient.

The more lightweight design if the welding head ,only 500-800g ,close to the weight of a 550ml bottle of spring ,making it easier to operate for a long time .There is no technical and programming ability required .And will be good at welding even for beginners .

The welding seam is exquisite, durable ,and fast ,and the welding speed is 3-10 times faster than that of traditional ARC welding and plasma welding .

The influence of thermal deformation is small,and ultra-thin materials (thickness below 0.1mm) can be welded without grinding and polishing.
Difference between handheld laser welder and traditional ARC welder
| | | |
| --- | --- | --- |
| Item | Handheld laser welder | Traditional ARC welder |
| Labor cost | The operation is simple, ordinary workers can get started in half an hour, and the labor cost is low | Professional welders are difficult to recruit, and the cost of employment is high. |
| Personal injury | Pure single-wavelength beam energy, non-direct, low radiation, only need protective glasses to filter the strong light. | Occupational disease and human injury. |
| Work efficiency | Fast speed, the efficiency can reach 3-8 times that of argon arc welding, and the linear welding speed can reach 10 cm/s | Slow and inefficient. |
| Thermal deformation | The energy is concentrated, the influence of thermal deformation is small, and there is almost no thermal deformation. | It has a large thermal influence and is easily deformed. |
| Weld quality | The weld seam is fine and beautiful, the molten pool is deep, and the strength is high. | The welds are thick and irregular and require secondary grinding and polishing. |
| Solderable Materials | Very thin materials can be welded | Cannot weld thin materials |
| Learning difficulty | General workers can be proficient, and inexperienced female workers can also operate. | Professional welders are required, and the technical threshold is high. |
| Consumables | It can be welded with filler wire or directly welded. | There are consumables, must need welding wire |
| Weld damage | The welds are beautiful and fine, the molten pool is uniform, and the consistency is good. | With air holes, it is easy to be welded through |
The difference between handheld laser cleaning machine and traditional cleaning machine
| | | | | |
| --- | --- | --- | --- | --- |
| ITEM | LASER CLEANING | CHEMICAL CLEANING | MECHANICAL GRINDING | DRY ICE CLEANING |
| CLEANING METHOD | CONTACTLESS | CONTACT | CONTACT | CONTACT |
| WORKPIECE DAMAGE | NO | YES | YES | NO |
| CLEANING EFFICIENCY | HIGH | LOW | LOW | MEDIUM |
| CONSUMABLES | LESS | CHEMICAL AGENT | Grinding wheel | DRY ICE |
| CLEANING PERFORMANCE | PERFECT | UNEVEN | UNEVEN | UNEVEN |
| ENVIRONMENT | CLEAN | POLLUTION | POLLUTION | NO POLLUTION |
| LABOR | SIMPLE TO OPERATE | HIGH REQUIREMENT FOR WORKER | LABOR-INTENSIVE, PROTECTIVE MEASURES REQUIRED | SIMPLE |
TECHNICAL PARAMETER
| | |
| --- | --- |
| Power range | 500W-2000W |
| Laser type | Continous fiber laser source |
| Laser life | about 10 million hours |
| Fiber length | 8-10 meters, can be customaries |
| Welding depth | 0.05mm-6mm |
| Welding pendulum width | ≤5mm |
| Maximum linear welding speed | 200mm/S(depends on material) |
| cleaning width | 0- 80mm |
| Cutting thickness | 0-5mm |
| Power range | 10%-100% |
| Power consumption | about 1000-5000 watt(full power output) |
| weight | 100kgs |
| power requirements | two-phase 220V/50HZ |
| Operating temperature | 0-40℃ |
| Working humidity | 20%~90% |
| Equipment size | length X width X height:525X886X600mm(size difference Subject to product updates and customizations change) |
APPLICATION AND SAMPLES
Stainless steel, iron, aluminum, alloy welding, etc., such as: large workpieces, shells, decorative panels, mechanical shells,
Equipment shells, sheet metal processing, stainless steel sinks, water pipe fittings, stainless steel sheets, corners, aluminum
alloy doors and windows, floor drains, door handles and door locks, thermos cups, kitchen utensils, etc.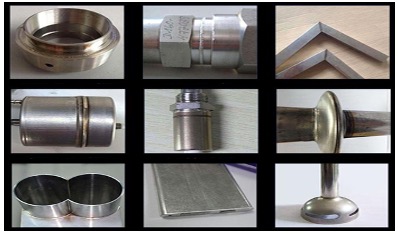 WELDING AND CLEANING SAMPLES