Remcor technology is a global supplier for the turnkey fiber laser cutting lines, which have around 18 years experiences, 5000 sets installations globally.no matter what type what size and how thickness your sheet material is ,we can provide you the suitable equipment .Fiber laser cutting machine mainly been applied in sheet metal fabrications ,with the character of fast speed ,high precision or accuracy, environmental friendly , low power consumption, low table cost , and low maintenance cost .which is widely applied in fast cutting metal steel ,stainless steel , carbon steel, aluminum ,copper , galvanized steel, titanium alloy, gold, silver and other material. OEM ODM services are available .
Product show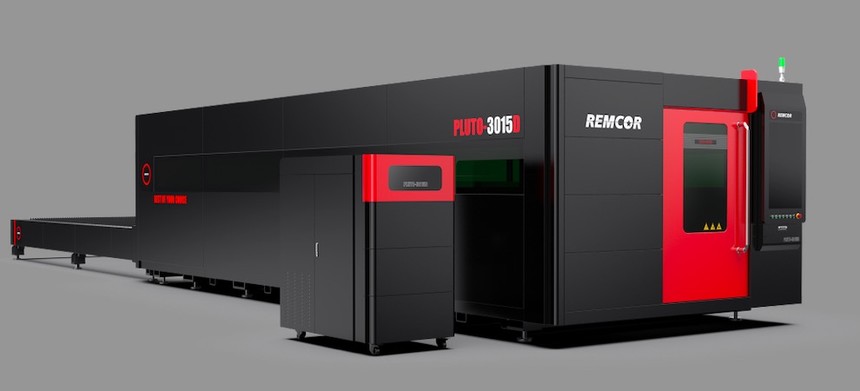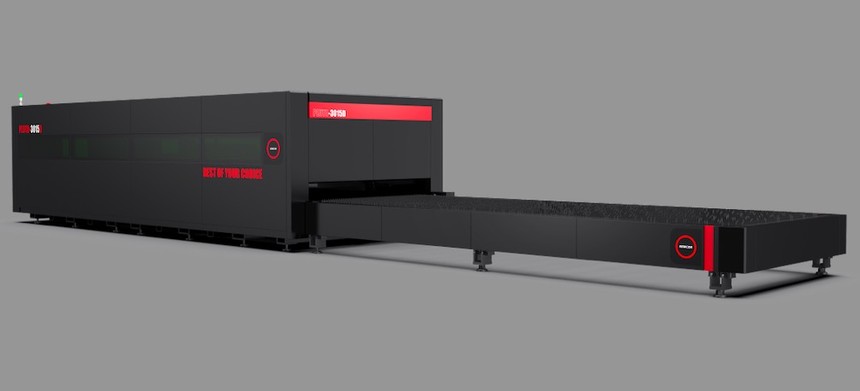 Remcor Fiber Laser Cutters Features
1. Strong bed with plate welding, normally 3015 bed is up to 3500kgs.
2. Full aluminium alloy gantry,Using high strength cast aluminum beams to achieve strength ,rigidity .
3. Top famous brands key parts to make sure the precision / accuracy and stabilility. Even the small part ,we will give you the good one.
4. Proprietary dust removal equipment and technology to ensure that the processing workshop comprehensive protection without smoke.
5. Multiple interfaces are reserved automatic equipment can be added at any time and anywhere seamless connection with industry 4.0.
6. High cutting speed for CS/SS/Aluminum/Copper sheet .low operating costs.Doubling return on your investment.
Evergy saving ,low power consumption ,20%-30% of the traditional co2 laser cutting machine.
Enclosed laser cutting machine parameters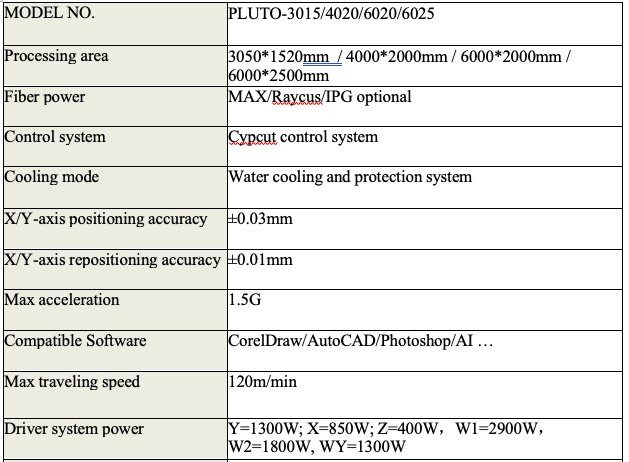 Laser Cutter Main Parts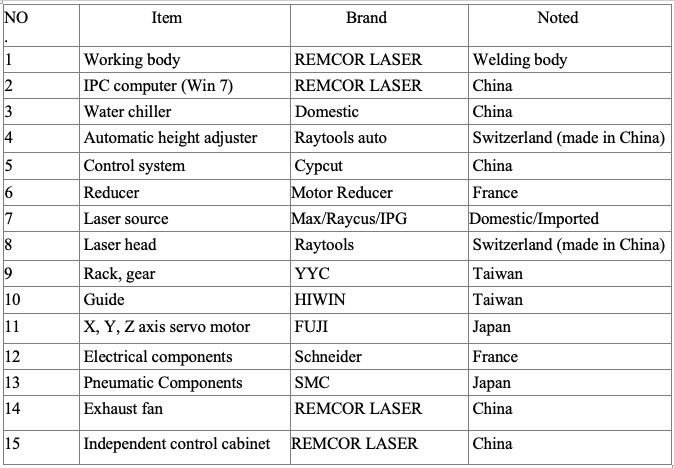 1) HIWIN YYC guider and Gear&Rack, different with the copy which just put "HIWIN""YYC" brand
2) FuJI motor and driver, Doubel Y: 1300W, X: 850W, faster cutting Speed
3) Strong bed with plate welding, normally 3015 bed is up to 3500kgs
4) Full aluminium alloy gantry
5) Independent cabinet with air conditioner as standard
Remcor Laser Cutting Machines Configuration advantages
Top Brands laser source,high Electro-optic conversion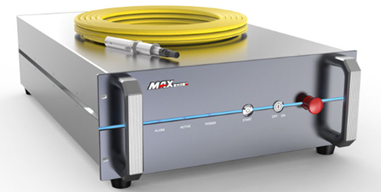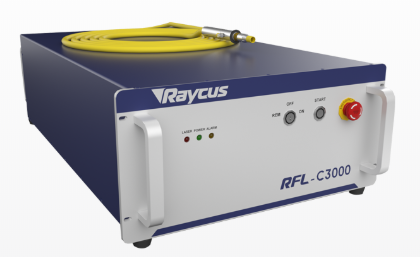 Strong bed: Craftsmanship, strong and durable

Bed:18 years, 5000 sets of machine tool manufacturing experience, the overall use of heavy machine tool welding structure to stress after annealing rough finishing, secondary aging treatment to eliminate stress, anti-deformation, more durable, after high temperature annealing and natural aging to eliminate welding stress, to ensure long-term use stability and no deformation, the fiber laser machine tool has excellent shock resistance, high rigidity and stability, effectively ensuring the high speed of high-speed cutting, high precision and high stability of the whole machine operation.
Rich Experience, thousands of tempering, light flying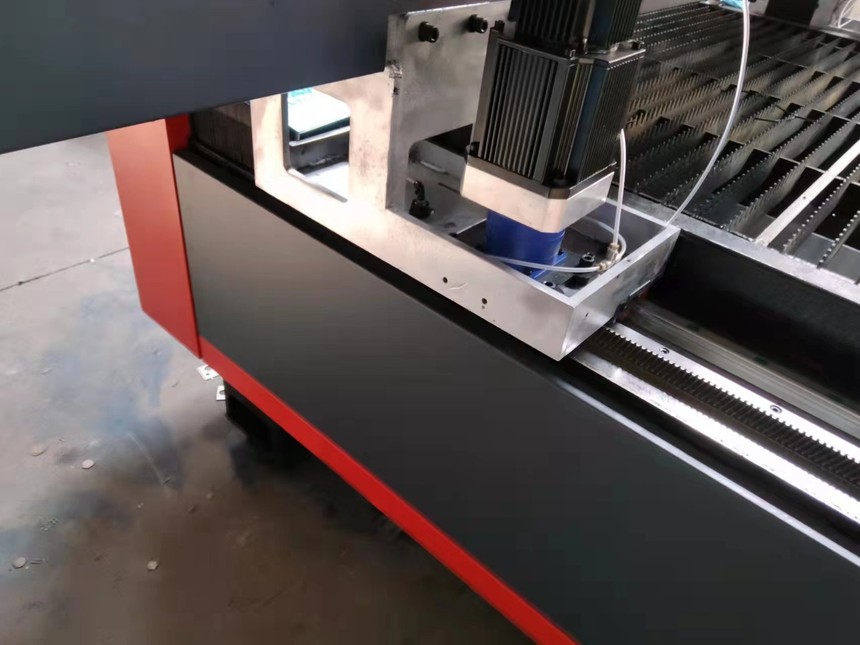 Gantry: The beam body adopts the overall aluminum alloy casting method, annealing eliminates internal stress and processes, The process is casting →annealing stress → rough machining → vibration aging → semifinishing → vibration aging →finish machining, the machine is machined after tempering, the strength, rigidity and stability of the beam are guaranteed, the precision of the beam can be maintained for a long time. Mainly for the high speed cutting of high power laser cutting machine provides an effective guarantee.
Intelligent dual-drive, High efficiency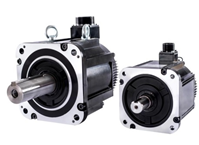 Servo motor: Adopt gantry imported brand dual servo motor drive system, synchronous dual drive, effectively ensure the high speed, high precision and high stability of the whole machine operation.
Optical system, precision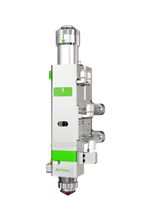 Laser cutting head: Using automatic focusing cutting head, high stability, good cutting quality, fast perforation and cutting. Automatic tracking can automatically and accurately adjust the focus according to the material thickness to ensure the best cutting effect of the whole board; short perforation time, good perforation quality, high-speed cutting, saving time.
Imported parts, Durable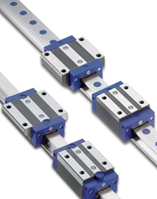 Transmission components: the core transmission components of the machine tool reducer, gear and rack set are imported brands, and the core components are selected from well-known brands to ensure that the long-term high-speed cutting accuracy of the equipment remains unchanged and durable.
Intelligent and convenient, one-key operation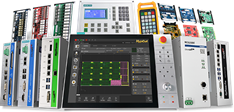 Controlling system: Simple visual controlling system, intuitive adjustment of laser power, gas type and pressure; intelligent edge search, automatic positioning;Multi-type file import support, automatic generation, intelligent typesetting, flexible process, image display, simple operation. Laser sheet metal processing special processing system, easy to install, simple operation , Excellent performance, process solution complete plan, achieve stable and high-precision cutting, set a powerful data process Library, and bring users a simple, convenient and efficient intelligent experience.
Wireless control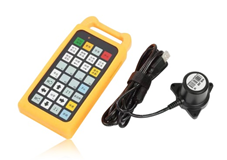 Remote control: The button setting is simple and clear, one-key wireless control: calibration, blowing, simulation, cutting, pause and other functions can be realized; magnetic design, as you put it, easy to work.
360 ° anti-collision
Anti-Collision: Automatic anti-collision function, the cutting head and the board surface keep a safe distance at any time, anti-collision stop function, protect the cutting head safety and worry-free.
Manufacturing Details and Full Process Manufacturing Quality Assurance
Blanking: Plasma, laser cutting machine, tube plate laser cutting machine cutting a variety of equipment cutting, to ensure the dimensional accuracy of blanking, can meet the high efficiency of many kinds of materials.

High quality welding: The machine tool adopts a flexible tooling bed welding production line to ensure welding quality and greatly improve welding efficiency. The plate groove is beveling using a mechanical beveling machine to ensure the groove size and groove welding strength; there are obvious advantages over flame bevels.

Aging annealing: The bed body is all treated by electric furnace annealing, which can ensure the stability of the welded bed structure.

High precision milling: The bed body and beam are processed by high-end CNC gantry milling. The CNC gantry milling is 12 meter machine, 8 meter machine and 5 meter machine respectively. The supporting facilities are complete, the equipment precision is excellent, the mass processing and production are high.

Small details are the first: All beds are sandblasted to increase the surface adhesion of the paint.

Strict control quality inspection: We use high-precision marble platform for testing, professional gear detection instruments, and for the circular effect of laser cutting machine, we use an imaging instrument for testing, the data is true and effective, and convincing.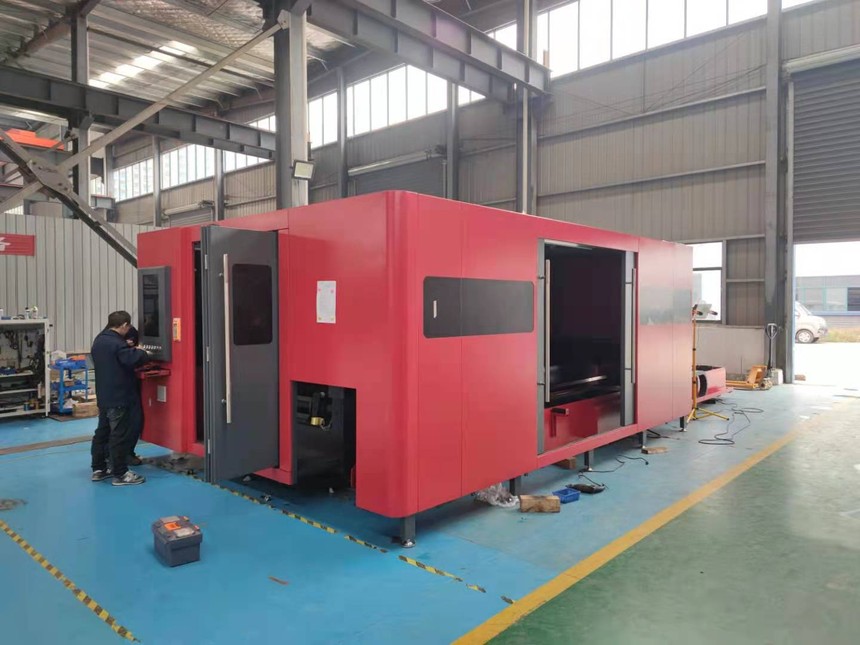 Accuracy Assurance System Details

Fiber Laser Cutting Machines, the most important is the bed stability, other parts can upgrade or change new ones, but once bed is broken, how can still work ?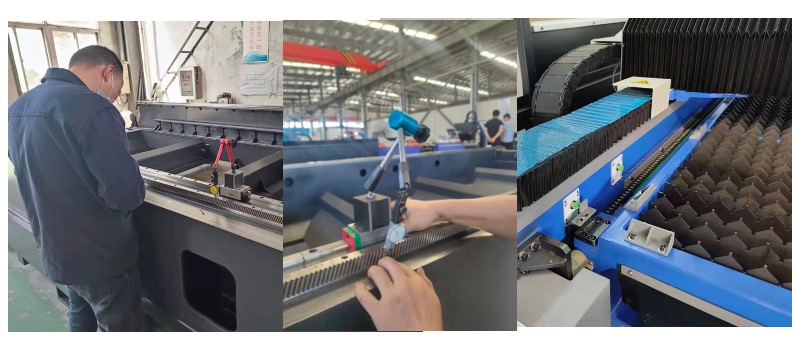 Processing Details ---------Our company has CNC vertical machining center and 630 horizontal machining center. The core moving parts can be processed at one time to ensure accuracy and processing efficiency.
In Assembly details -----------We use high-precision marble platform for testing , professional gear detection instruments, and for the circular effect of laser cutting machine, we use an imaging instrument for testing, the data is true and effective, and convincing.

After Assembly details-----------we use a laser collimator to detect the installation accuracy.
After the whole machine is powered on--------we use a laser interferometer to detect the positioning accuracy and repeated positioning accuracy of the machine tool, ensure the mechanical properties of the machine tool.
Remcor, we are serious to check all the details to make sure the bed precision and to upgrade the bed manufacturing process to make strong bed.
What makes Remcor Laser OUTSTANDING ?
1. Machine manufacturing: 18 years, over 5000sets experience, strict quality control for manufacturing process .
2. Gantry: Plate welding, 2-3 times stronger than normal ones.
3. Key parts: Top brands to make sure the stability ,even the small parts ,we will give you good one.
4. Wireless remote control: Easy to handle all the process by one key.
5. After-sales service support system: 24hours online professional service team with over 8 years in laser cutting industry.which can help with your demands or problems within the shortest time .
6. Win to win support system: every year we would award some great dealers and support them with some exhibitions to acheive the win to win coperation .And also we would pay regular visit to our customers for helping with checking machines , listen their actual demands and upgrade our equipments technologies .
Some customer site cutting samples and vedios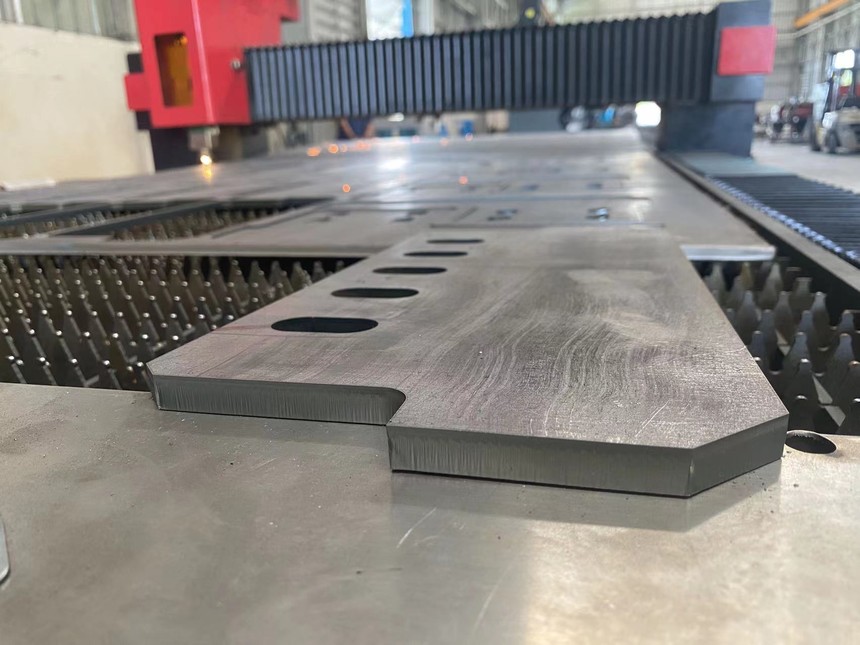 REMCOR LASER SPARK 6020 3KW for cutting carbon steel thickness 15mm .Clean and shinny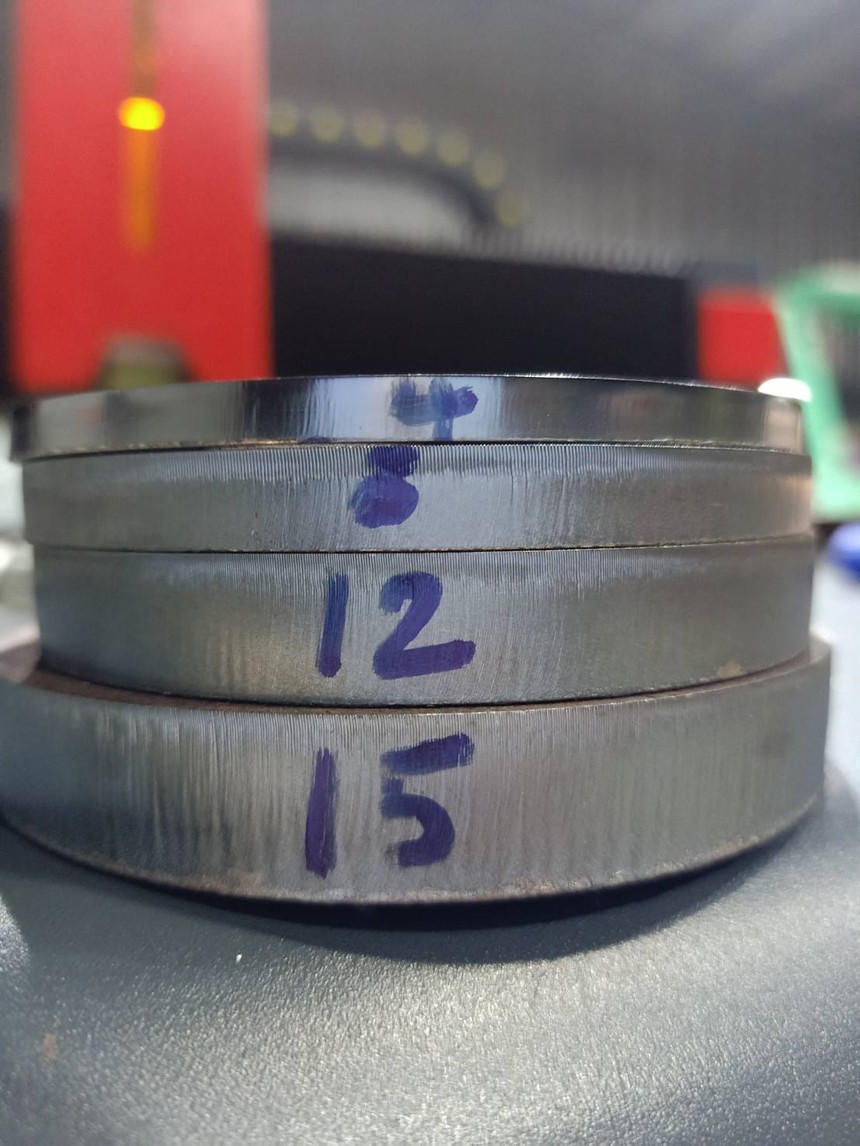 REMCOR LASER SPARK 3015 2KW for cutting carbon steel thickness vary with 4-15mm .Clean and smooth surface